The mystery man known on social media as #FenceCutterBulwark will appear on the "Patriot Punk Network" on Wednesday, host Robert Chase Matheson told Blaze Media in an exclusive interview.
A 16-second video posted Monday by Matheson to the Patriot Punk Network account on X (formerly Twitter) shows Matheson, sporting a towering bleached-blonde mohawk, asking an obscured figure to identify himself to the audience. The camera then reveals a recognizable figure from the events at the U.S. Capitol on January 6, 2021, known online as Fence Cutter Bulwark. The man in the video claims he only discovered "about two weeks ago" that he "got a hashtag on Twitter called #FenceCutterBulwark."
#FenceCutterBulwark has been the subject of much speculation on social media over the past two and a half years. The descriptive hashtag comes from the man's attire — he was seen at the Capitol during the events of January 6 wearing a dark Bulwark brand fire-retardant jacket — and his actions — cutting and removing "snow fencing" on the Capitol lawn, which allowed pro-Trump demonstrators to approach the building unimpeded.
Matheson, a 33-year-old punk rock fan with dual British and American citizenship who lives in Tullahoma, Tennessee, became a political activist and protester during the COVID lockdowns in 2020. He said he became a casual acquaintance of #FenceCutterBulwark during those 2020 protests.
Matheson would not provide Blaze Media with the man's real name and said his identity would not be revealed on the Wednesday podcast. Instead, Matheson said #FenceCutterBulwark will explain some of his actions on that day and deny that he was acting as an agent of the federal government.
The man is seen in the preview video wearing attire similar to what he wore on January 6 for the podcast interview. But without his distinctive beanie and sunglasses, Matheson said, FCB "doesn't look anything like he does in the J6 photos. It's probably why no one has been able to identify him before now."
It's also why, Matheson admitted, he was unable to "put two and two together" from the January 6 news reports and videos he'd seen about #FenceCutterBulwark.
At least not until a week ago, when FCB reached out to him saying he wanted Matheson to tell his story.
Matheson, who was also at the Capitol on January 6, earned his own hashtag from the left-wing Sedition Hunters: #BleachForBrains. An internet search shows that those open-source investigators — who work closely with the FBI — showed no real interest in #BleachForBrains, as he participated in no violence or property destruction and didn't enter the Capitol Building.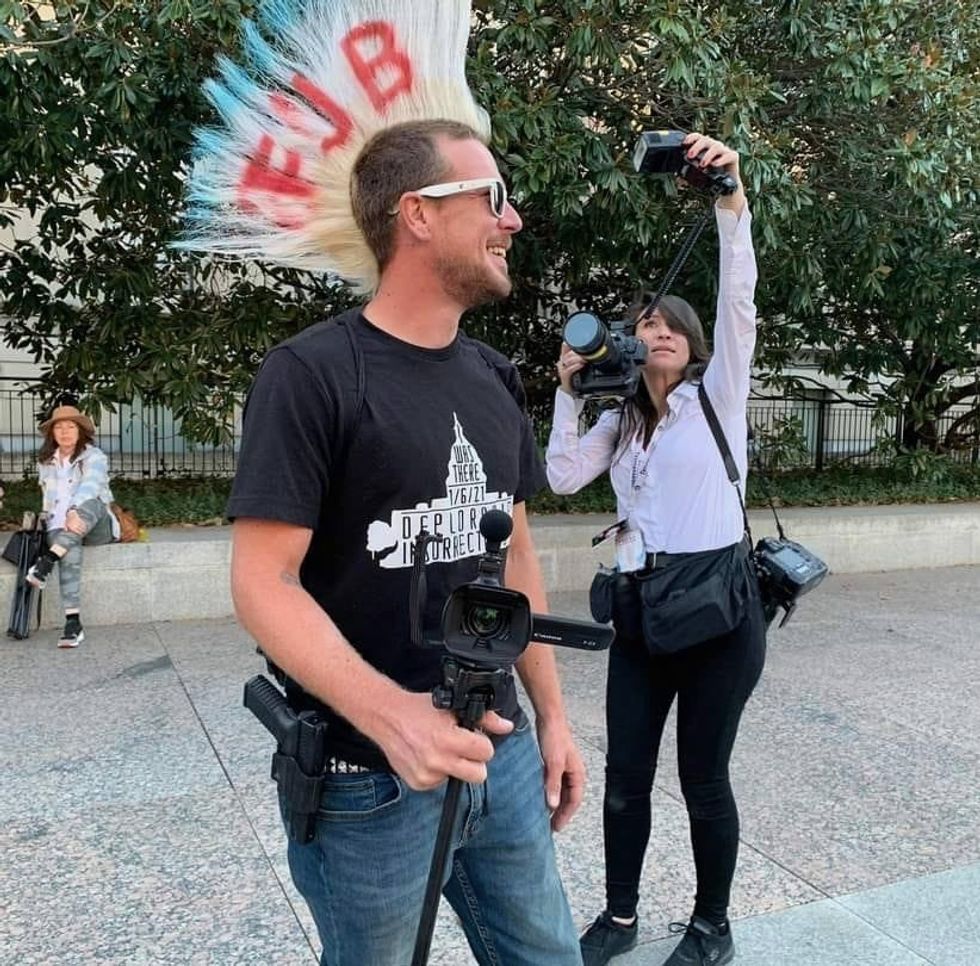 Photo: Teresa Kerr
Matheson recorded about five hours of video during the January 6 demonstrations, beginning at the Trump rally at the Ellipse, continuing during his march to the Capitol, and then for about an hour on both the west and east sides of the Capitol Building.
Matheson says he stayed for most of Trump's speech but then left early to follow the thousands already making their way toward the Capitol. He arrived on the west side about 30 minutes after the first barricade breach at 12:52 p.m. and then began filming the west front battle line at about 1:35 p.m. He says he and his fellow travelers were back on the buses before 4:00 p.m. and "out of the county well before the 6:00 p.m. curfew" imposed by D.C. Mayor Muriel Bowser.
Asked why #FenceCutterBulwark approached him specifically, Matheson answered: "Because of our previous interactions, and from my other works, which he was following online. He felt like I was someone of integrity that he could trust."
While withholding some key elements of FCB's story — to be revealed in the podcast — Matheson says FCB believes his actions on January 6 have been mischaracterized, particularly by right-leaning media.
In the podcast interview, FCB points to a recent appearance by Revolver News editor Darren Beattie on "The Glenn Beck Radio Program," in which Beattie says, "I am very convinced that if … Fence Cutter Bulwark [was] simply identified, it would be the biggest scandal in the country." Beattie added, "And definitively confirm that January 6 was a 'Fedsurrection,' in the darkest sense of the imagination."
According to Matheson, FCB insists he is not "a fed" and is also aware that the X-based Sedition Hunters have been looking for him, so he wants to come out on his own terms.
In the podcast, FCB claims he was cutting down and rolling up plastic "snow fences" to help ensure crowd safety, as thousands of people were making their way from the Ellipse to the Capitol.
FCB's account is corroborated, in part, by a video-recorded conversation with undercover D.C. Metro Police Officer Ryan Roe, which was brought to light last month by investigator and January 6 defendant Will Pope. In it, FCB explains why he's removing the fencing, and Roe can be heard thanking him, saying, "Appreciate it, brother."
In his podcast interview with Matheson, FCB speculates that his exchange with Roe is why the FBI has not pursued him as zealously as they have other January 6 protesters.
Asked if he believed FCB's rationale, Matheson said, "I do. I wouldn't bet my life on it, but I'd wager $20 on it."
The complete podcast will be posted at the Patriot Punk Network website on Wednesday at 8:00 p.m. ET/5:00 p.m. PT.