A Texas school district apologized to outraged parents after it gave students a Winnie-the-Pooh book on how to survive an active shooter at school.
Cindy Campos, a parent whose sons attend Leslie A. Stemmons Elementary, told KDFW-TV that she was caught off guard by the "tone-deaf" book.
Campos stated that her sons' elementary school frequently provides students with books to take home, but she felt the Winnie-the-Pooh book should have included some warning or instruction for parents.
The book, titled "Stay Safe: Run, Hide, Fight," featured illustrations of the popular fictional bear and his friends, Eeyore, Piglet, and Rabbit. It instructed students on how to survive if there is an active shooter on the school campus.
"If there is danger and it is safe to get away, we should run like Rabbit instead of stay," the booklet stated.
The next page illustrates Winnie-the-Pooh hiding in a honey jar, stating, "If danger is near, do not fear. Hide like Pooh does until the police appear."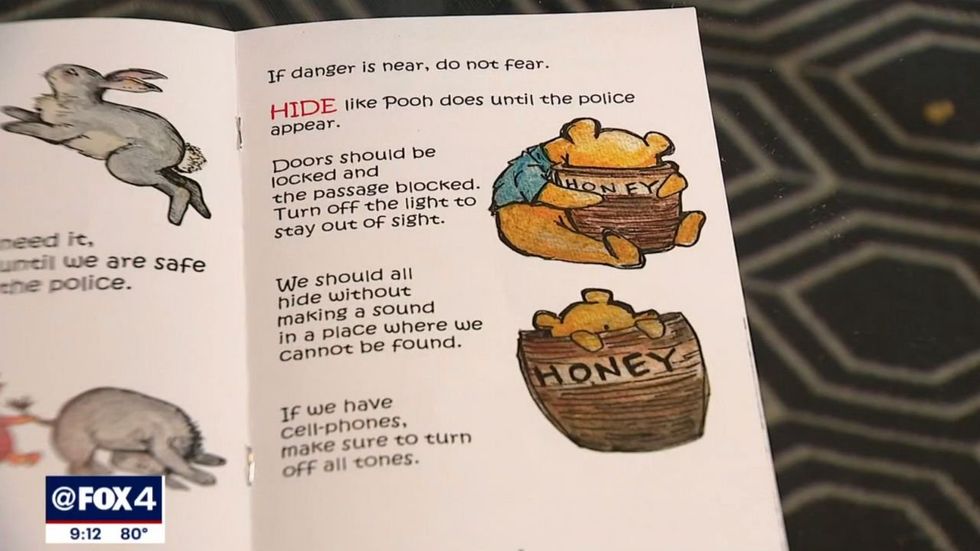 Stay Safe: Run, Hide, Fight (Image Source: KDFW video screenshot)
The book instructed children that if they cannot run or hide, they should fight.
"If danger finds us, don't stay, run away. If we can't get away, we have to fight with all our might," it read. "Like Kanga and Roo do, it is better to fight together."
Children are then advised to remain quiet and wait for teachers or police officers to find them.
Campos told KDFW, "We are not going to make active shooter drills cute."
The concerned parent called it "so weird" that the school sent the book home with children as young as five "with no instructions."
According to Campos, the book was provided to children around the anniversary of the school shooting that took place in Uvalde, Texas, which resulted in the deaths of 19 children and two teachers.
The Dallas Independent School District told KDFW it had apologized for not informing parents ahead of time about the book.
"Recently, a booklet was sent home so parents could discuss with their children how to stay safe in such cases. Unfortunately, we did not provide parents any guide or context. We apologize for the confusion and are thankful to parents who reached out to assist us in being better partners," Dallas ISD stated.
The district told the Advocate, "The reality that Dallas ISD faces is no different than any other school district in America. We work every day to prevent school shootings by dealing with online threats and by hardening our schools. In addition, we conduct active shooter drills, so students know what to do in case the unthinkable happens."
Like Blaze News? Bypass the censors, sign up for our newsletters, and get stories like this direct to your inbox. Sign up here!